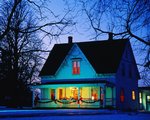 Home cooking is our goal...
Shermer's lunch room is staffed by very competent and wonderful cooks. Students may pay cash or use a declining balance account.
Click here to learn more about our Child Nutrition Program.
Students make deposits in $25 increments then meals can be paid for by swiping the Student ID Card. Students can review the Weekly Menu to know ahead of time which line to choose on any given day or whether to bring lunch from home.
Dine with us and see why our kids love us!
NEW LUNCH PRICES: Beginning with the 2011-2012 school year, new prices will be in effect.
Lunch - $2.50 (students); $3.50 (adults)
REALLY!