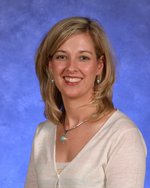 Emma Battles, April Teacher of the Month
FOR IMMEDIATE RELEASE
Contact: Doris Moody - 205-943-8783
Emma Battles, a Math Teacher at Shermer Middle School, has been named this month's Outstanding Teacher at Emerald City Schools.
Ms. Battles has been with the school system for six years and has taught Math at the middle school during her entire tenure at Emerald City. She goes the extra mile and works with her math students to make learning fun.
I am so honored by this award and I hope that my contributions to the students bring only half as much joy and knowledge as they bring to me, Ms. Battles commented upon learning of this award.
Ms. Battles will receive a $100 gift certificate to Macy's for the gift of her choice! Congratulations, Ms. Battles, on a well-deserved award. Keep up the great work!