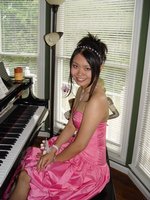 Yuko
Students at Shermer Middle are experiencing the system's Foreign Exchange Program for the first time. Meet Yuko from Tokyo. Yuko is attending Shermer Middle School this year to get a first-hand look at school in the United States. Yuko is a very talented young lady and plays piano superbly. She is continuing her music studies by taking lessons from the conservatory at the local university. The students recently attended a recital where she really "showed her stuff" playing pieces by Chopin, Tchaikovsky and others.
Yuko will return to Japan in May once the school year is out and will begin school in July in her home country.
Thanks, Yuko, for bringing your charm, beauty and music to Shermer Middle School!